A Woman to Know: Yaa Asantewaa
I shall call upon my fellow women. We will fight! — Yaa Asantewaa
I shall call upon my fellow women. We will fight! — Yaa Asantewaa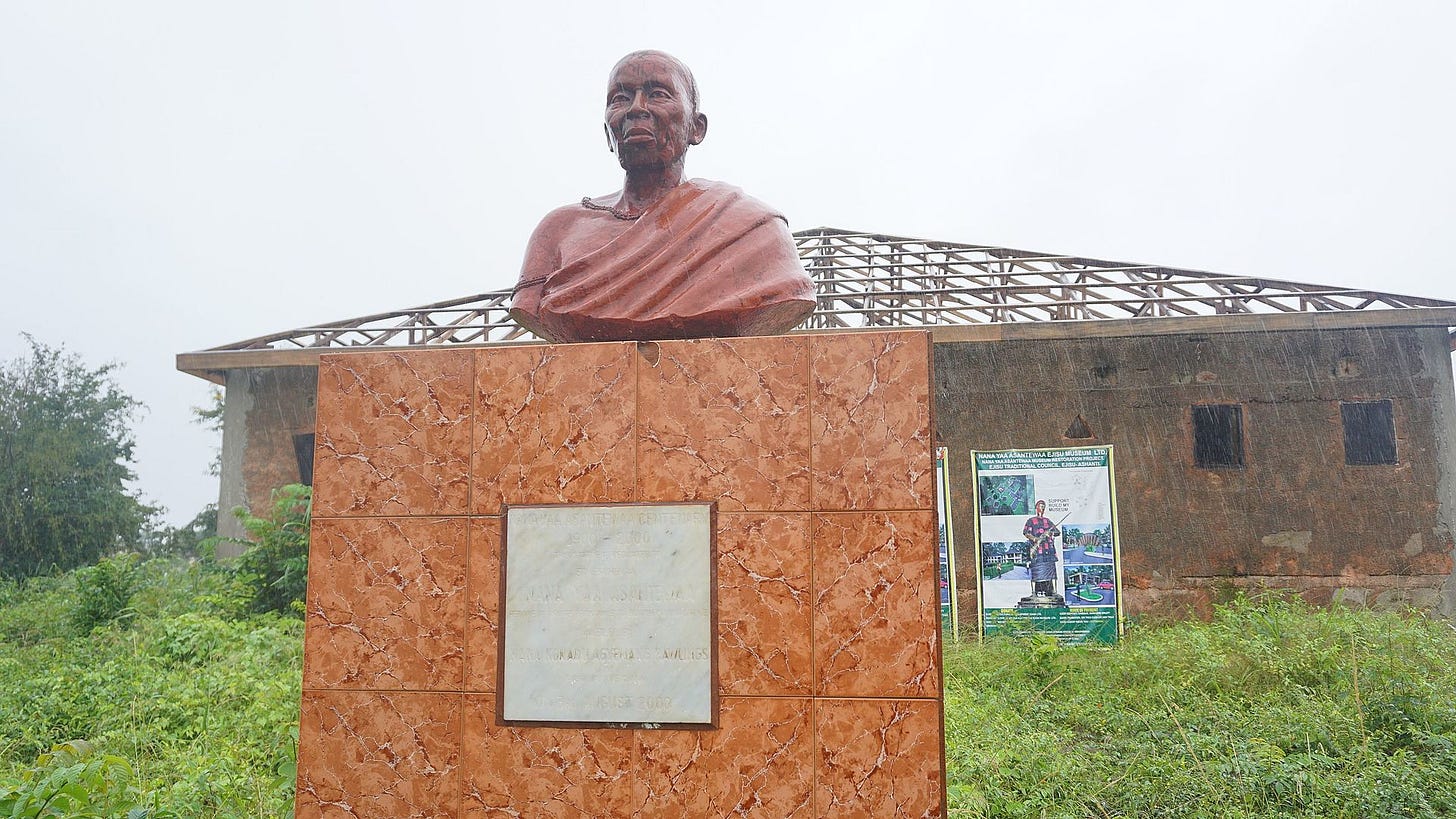 (image via Wikimedia Commons)
In 1896, the Ashanti Confederacy, the people of the country now known as Ghana, planned a rebellion against British invaders. The colonizers were intent on creating a "Gold Coast" colony and ending centuries of Ashanti rule. Yaa Asentawaa was then reigning as the Queen Mother, or mother to the king. She acted as his main adviser and protected the "Golden Stool," a sacred symbol of the Ashanti kingdom.
In 1900, the British captured her son and grandson and demanded Yaa Asentawaa present them with the Golden Stool in return for their release. A British representative visited Yaa Asentawaa and attempted to sit on the Stool himself. Enraged, the Queen Mother martialed the troops and led them into the first battle of the War of the Golden Stool, also known as "Yaa Asentawaa's War of Independence."
The decades-long war took its toll on the Ashanti; even as thousands of British troops fell to Yaa Asentawaa's forces, more than half of her soldiers met their deaths on the battlefield. As a group of men begged her to admit defeat, she issued a rallying cry remembered for its ferocity and spirit:
Is it true that the bravery of the Ashanti is no more? I cannot believe it. It cannot be! I must say this, if you the men of Ashanti will not go forward, then we will. We the women will. I shall call upon my fellow women. We will fight the white men. We will fight till the last of us falls in the battlefields.
In 1921, the British captured Yaa Asentawaa and imprisoned her in the Seychelles. She died in exile and the war ended soon after, marking an end to the final Anglo-Ashanti war. But thirty years later, the Ashanti won their long fight for independence, as part of the independence of Ghana.
Add to your library list:
Read more:
See more:
Send your own recommendations for women to know! Reply to this newsletter with your lady and she could be featured in an upcoming edition.