A Woman to Know: Vivian Malone Jones
I decided not to show any fear. — Vivian Malone Jones
I decided not to show any fear. — Vivian Malone Jones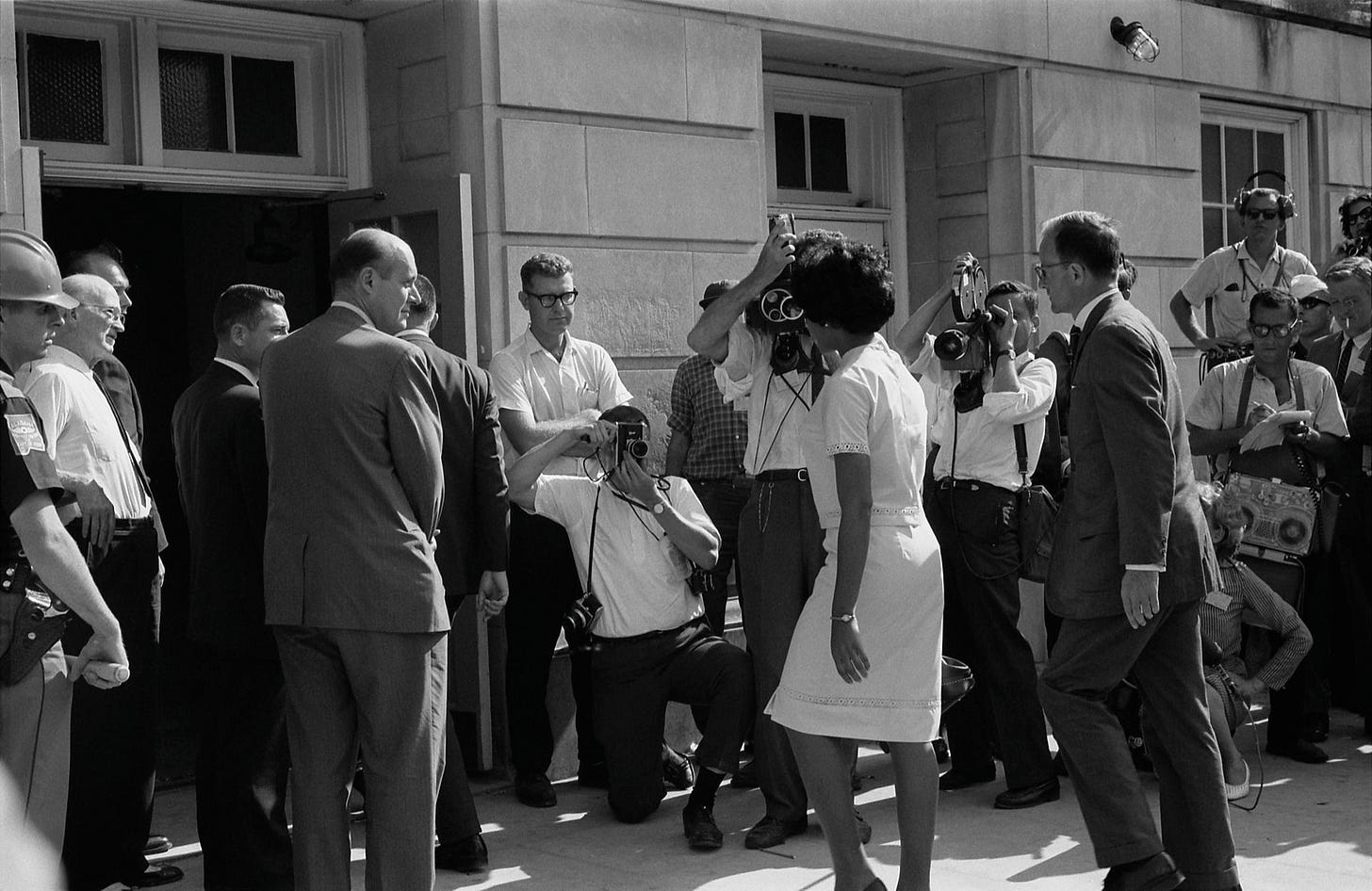 (image via Wikimedia Commons)
In 1963, Vivian Malone enrolled at the University of Alabama. The year before, she joined another student, James Hood, in filing suit against the university for denying access to black students.
In 1963, when she finally won the right to attend classes, Vivian walked to the school's impressive front door. There, Governor George Wallace waited for her, physically blocking her entrance to school.
"I didn't feel I should sneak in," she said. "I didn't feel I should go around the back door. If Wallace were standing in the door, I had every right to face him and go to school."
Wallace was known for his campaign slogan, "Segregation Now, Segregation Forever." He refused Vivian entrance; she refused to turn around and leave. The face-off between Vivian and Wallace is now known as the legendary "Stand at the Schoolhouse Door." After a four hour stand-off and a call to federal troops, Wallace finally backed down and Vivian walked inside.
Vivian's life didn't return to normal after the infamous "Stand." Death threats, planted bombs and segregationist protesters fought to prevent her from attending classes.
"No one knew for sure just what might happen," she remembered. The university hired a driver to escort her to and from campus (they eventually got married — what a love story).
On May 30, 1965, Vivian graduated — the first black student to ever graduate from the once-segregated university. She embarked upon a long career in civil rights, later working for the Justice Department and serving as the director of civil rights and urban affairs and director of environmental justice at the Environmental Protection Agency and as the first female CEO of the Voter Education Project.
In 2000, she took the stage to deliver the commencement address at the University of Alabama, the school that once denied her admission and physically blocked her entrance. "Lord, what a difference 35 years makes," she said.

Add to your library list:
Read more:
Hear more:
Watch more:
Send your own recommendations for women to know! Reply to this newsletter with your lady and she could be featured in an upcoming edition.