A Woman to Know: Violet Jessop
I stood at the bulkhead with the other stewardesses, watching the women cling to their husbands before being put into the boats with their children. — Violet Jessop
I stood at the bulkhead with the other stewardesses, watching the women cling to their husbands before being put into the boats with their children. — Violet Jessop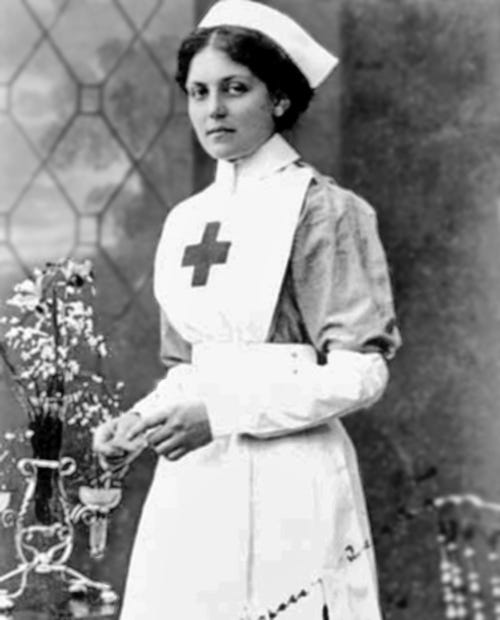 (image via Wikimedia Commons)
In 1912, Violet worked as a stewardess for the White Star Line, a British shipping company. Her coworkers were eager to apply for jobs on a new ship taking its maiden voyage: the Titanic. Violet hesitated at first; she liked her current ship and her crewmates, and she liked being able to take time off back in London, where she cared for her invalid mother. But ultimately the glamour of the "unsinkable" ship and the allure of a Transatlantic voyage convinced her. She boarded the luxury liner in April 1912, just four days before the ship hit a midnight iceberg.
As a stewardess, Violet would normally have been downgraded in her preference for a lifeboat. But the crew needed female stewardesses to shepherd distressed passengers to the Carpathia, the ship summoned to the Titanic's rescue.
Violet described the horrific scene in her memoirs:
As the boat was being lowered the officer called: 'Here, Miss Jessop. Look after this baby.' And a bundle was dropped on to my lap … I was still clutching the baby against my hard cork lifebelt I was wearing when a woman leaped at me and grabbed the baby, and rushed off with it, it appeared that she put it down on the deck of the Titanic while she went off to fetch something, and when she came back the baby had gone. I was too frozen and numb to think it strange that this woman had not stopped to say 'thank you.'
She spent eight hours in the lifeboat, calming passengers and waiting for the Carpathia to appear on the horizon.
After surviving the Titanic, Violet immediately entered the British Red Cross's World War I service. After four years of tending to the wounded in war — and just four years after the Titanic tragedy — Violet boarded the Britannic, a White Star Line luxury ship converted into an at-sea hospital.
On Nov. 21, 1916, Violet woke to a loud bang — the Britannic had struck a German naval mine, setting off an explosion that torpedoes the massive body of the ship. Violet escaped in a lifeboat, but the Britannic was sinking too quickly. The ship sucked lifeboats into its propellers; rather than be drowned, Violet abandoned ship. She leapt into the water and swam to safety. Years later, a doctor examined her head and said he suspected she'd sustained a skull fracture in escaping the shipwreck.
The public called Violet "Miss Unsinkable." She wrote her memoirs and then — to the shock of her friends and family — returned to work with the White Star Line in 1920. She worked another four decades at sea,
Add to your library list: 
Read more:
Hear more:
Watch more:
Send your own recommendations for women to know! Reply to this newsletter with your lady and she could be featured in an upcoming edition.