A Woman to Know: Sarah Forbes Bonetta
She is a perfect genius. She is far in advance of any white child of her age, in aptness of learning, and strength of mind and affection. — Frederick E. Forbes
She is a perfect genius. She is far in advance of any white child of her age, in aptness of learning, and strength of mind and affection. — Frederick E. Forbes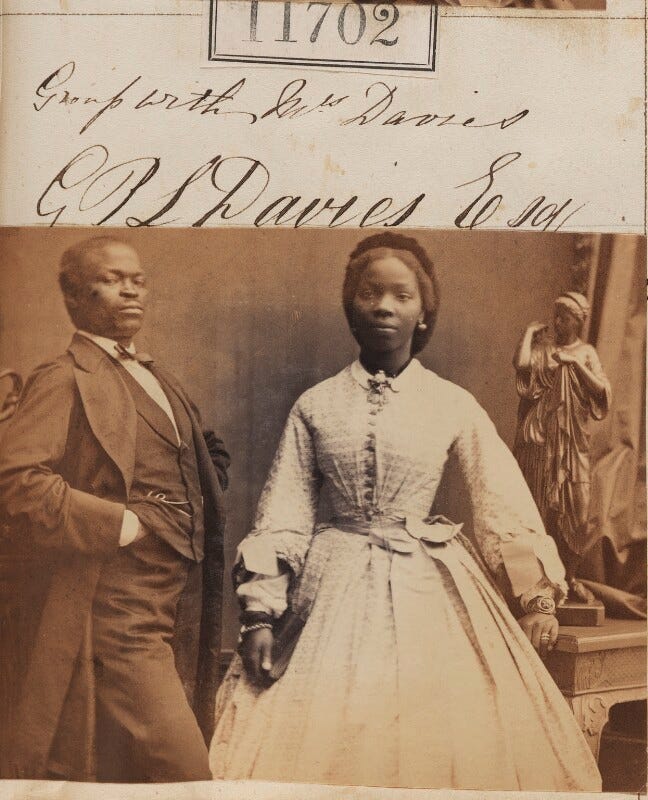 (image via National Portrait Gallery)
Sarah Forbes Bonetta was born a Yoruba princess in southwest Nigeria, and she died an honorary princess of the British empire in Madeira. The years in between saw her kidnapped as a child, tortured by her captors, enslaved by a rival kingdom, "gifted" to Queen Victoria and formally recognized as the legendary monarch's goddaughter.
But in 1848, when Sarah was only six years old, she knew nothing of Queen Victoria. A midnight invasion saw her parents slaughtered and her home incinerated.
Two years later, Frederick E. Forbes, a commander in the British royal navy, visited the Kingdom of Dahomey and pronounced Sarah "far in advance of any white child of her age." He convinced the rival king that Sarah "would be a present from the King of the Blacks to the Queen of the Whites." Forbes's ship, The HMS Bonetta, would later become part of Sarah's Anglicized name.
When Sarah arrived at Windsor Castle for her audience with Queen Victoria, she immediately impressed the queen with her poise and intelligence. Queen Victoria declared herself the young girls's godmother, appointed two aristocratic guardians to oversee Sarah's wellbeing and paid her school tuition.
But Sarah didn't fare well in the cold British climate, so she spent the rest of her young adulthood traveling back and forth between schools in England and Sierra Leone, battling a lifelong lung illness.
Queen Victoria gave Sarah a life-long allowance and frequently requested audiences with her at Windsor Castle. The royal family invited her to weddings and other events, even arranging her marriage to a prominent Yoruba-British businessman in 1862.
"She has won the affections, with but few exceptions, of all who have known her," Queen Victoria wrote in her diary.
Sarah and her new husband settled in Lagos, Nigeria, where Sarah worked as a school teacher at the same school Queen Victoria established. Sarah continued corresponding with her godmother until 1880, when she died of tuberculosis at 40 years old. She even named her first-born daughter "Victoria," and the queen announced herself the child's godmother, bequeathing her the same allowance, status and privileges she'd given to Sarah.

Add to your library list:
Read more:
Watch more:
Hear more:
See more:
Send your own recommendations for women to know! Reply to this newsletter with your lady and she could be featured in an upcoming edition.