A Woman to Know: Ruth Faison Shaw
Be free in your motions and bold in your colors. — Ruth Faison Shaw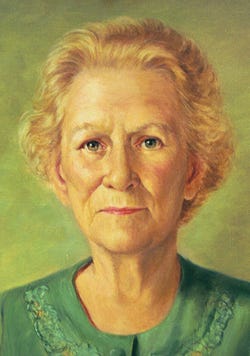 (image via The North Carolina Digital Collections)

When Ruth caught one of her students smearing yellow iodine on the bathroom walls, she didn't get angry — she got an idea.

In the 1920s, the teacher from North Carolina had moved to Italy, where she set up an experimental art school, The Shaw School. She was always looking for ways to tap into children's artistic ability, hoping to combine the therapy of expression with classic technique. When she saw the student's iodine "painting" on the wall of the bathroom, she realized there was a way to blend mess and play.

She developed child-safe paints to use in "finger paintings" and began teaching her technique to children and adults alike. In 1931, she patented one of those paints and shared it with other art teachers — the rest is (art) history.

Add to your library list:
Watch more:
​​Read more:
See more:
** Send your own recommendations for women to know! Reply to this newsletter with your lady and she could be featured in an upcoming edition. You can browse the archive here. **