A Woman to Know: Peggy Eaton
I must have said a great many foolish things. I am sure I did very few wise ones. I was foolish, hasty, but not vicious. — Peggy Eaton
I must have said a great many foolish things. I am sure I did very few wise ones. I was foolish, hasty, but not vicious. — Peggy Eaton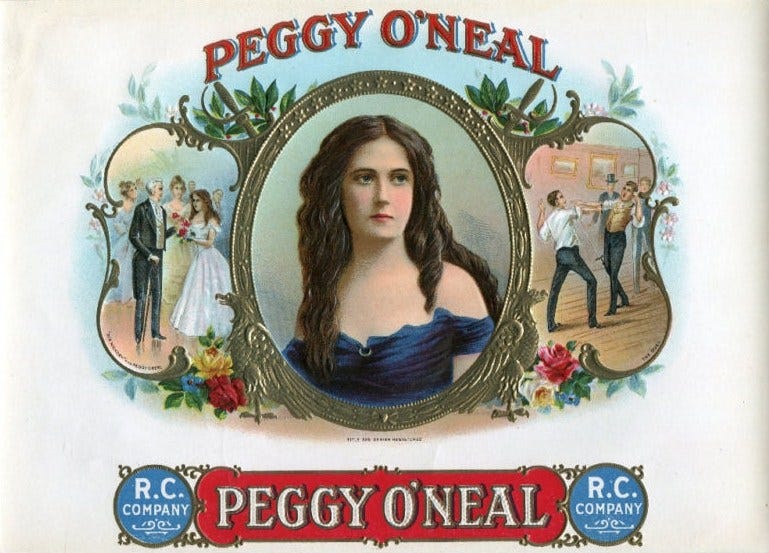 (image via Wikimedia Commons)
Margaret "Peggy" Eaton grew up in her father's tavern, a popular watering hole for Washington, DC gadflies and political hangers-on. Peggy won hearts with her charm and beauty, but she didn't win nearly as many friends — a fact that ultimately proved her downfall.
In 1816, she married her first husband, a Navy purser. When he went off to sea, rumors swirled of Peggy's "looseness." When he died in 1828, Peggy waited exactly nine months before she married John Henry Eaton, a Tennessee senator and close friend of Andrew Jackson. The Washington gossip mill erupted — politicians and their prominent wives speculated that Peggy had been entertaining an extramarital affair the whole time, driving her first husband away.
In 1830, President Jackson promoted Peggy's husband to be his Secretary of War, and the cabinet members' wives staged a social protest. They refused to sit with Peggy, going so far as to blacklist her from Washington invitations and claiming her ostracization was for the good of the country, to "protect society from immorality." As one historian wrote:
Accept her, and society was in danger of disruption. Accept this uncouth, impure, forward, worldly woman, and the wall of virtue and morality would be breached and society would have no further defenses against the forces of frightening change. Margaret Eaton was not that important in herself; it was what she represented that constituted the threat. Proper women had no choice; they had to prevent her acceptance into society as part of their defense of that society's morality.
Some of the cabinet members even supported their wives in the snubbing, including Vice President John C. Calhoun, whose wife Floride led the ladies against Peggy. The tabloids called this kerfuffle "The Petticoat Affair," and Washington again blamed Peggy for the scandal.
In 1831, President Jackson had had enough. He continued supporting the Eatons and told the press "I did not come here to make a cabinet for the Ladies of this place." He convinced his Secretary of State (future president Martin Van Buren, who had remained cordial with Peggy) to resign in exchange for future political favors. Once Van Buren left the cabinet, Jackson fired all the anti-Peggy members and completely reorganized his leadership team.
But Peggy's life didn't go back to normal right away. Jackson instead sent the Eatons to Florida, where John served as governor while the couple waited for the Petticoat Affair to blow over in Washington. They later moved to Madrid, where he acted as foreign minister.
When John passed away in 1856, Peggy didn't enter widowhood quietly. Instead, she married again at age 59, this time to an Italian dancing master 30 years her junior. After just five short years of marriage, Peggy's young husband absconded to Europe, taking all her money — and running off with her teenage granddaughter. The gossip mill churned on, even when Peggy died in poverty in 1879.

Add to your library list:
Read more:
Hear more:
Watch more:
Send your own recommendations for women to know! Reply to this newsletter with your lady and she could be featured in an upcoming edition.