A Woman to Know: Mary Ellen Pleasant
I have let books alone and studied men and women a good deal. — Mary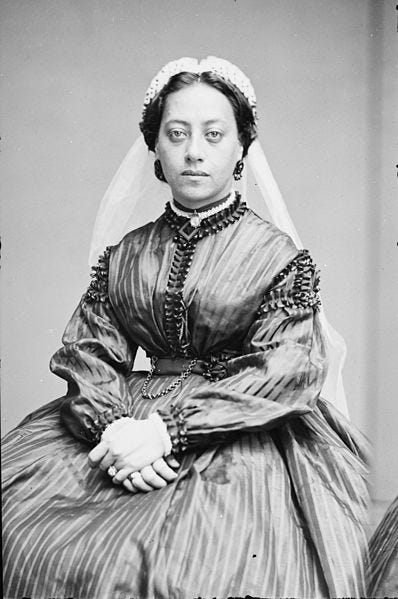 (image via Mary Ellen Pleasant)

No one knows exactly when and where Mary Ellen Pleasant was born -- some accounts say she was born a slave on a plantation in Augusta, Georgia; others report she was born to a free family in Philadelphia. Either way, because of her biracial heritage, Mary grew up for much of her life frequently passing as white -- which was critical for her survival during her lifelong work for abolitionist causes. She harbored runaway slaves on the Underground Railroad and assisted anti-slavery activists.

When she moved to San Francisco in 1852 with her second husband, she began a thriving career as a personal chef, eavesdropping on her rich employers to learn about business speculation. She poured money into building a name for herself in San Francisco business, funding local laundries and risky real estate ventures, maybe even running a couple "boarding houses for lonely travelers." By 1859, Mary had amassed a small fortune, enough to donate $30,000 to abolitionist John Brown.

But once Mary "came out" as black on a San Francisco census (she also identified herself in the same census as a "capitalist by profession"), her enemies set up about tarnishing her reputation. In the late 1860s, when Mary was probably the richest black woman living in America, people whispered she made her money with voodoo and sorcery, and the press dubbed her "Mammy Pleasant," a nickname she hated. She'd continue fighting vicious attacks until her death in 1904.

"I got a letter from a minister in Sacramento and it was addressed to 'Mammy Pleasant,'" she told one reporter. "I wrote him back on his own paper that my name was Mrs. Mary E. Pleasant. I wouldn't waste any of my paper on him."

Add to your library list:
​​Read more:
Hear more:
** Hey! If you're interested in black history and stories of black experience, check out this Washington Post project: Historically Black. We're collecting stories (and turning some into podcast episodes!) up until Sept. 1. Send yours in or ask me for more details if you'd like to participate! **

**Send your own recommendations for women to know! Reply to this newsletter with your lady and she could be featured in an upcoming edition. You can browse the archive here. **