A Woman to Know: Marguerite de la Rocque de Roberval
The poor woman, seeing that she was approaching the ship, drew herself to the edge of the sea, at which place they found her on their arrival. — Queen Marguerite of Navarre
The poor woman, seeing that she was approaching the ship, drew herself to the edge of the sea, at which place they found her on their arrival. — Queen Marguerite of Navarre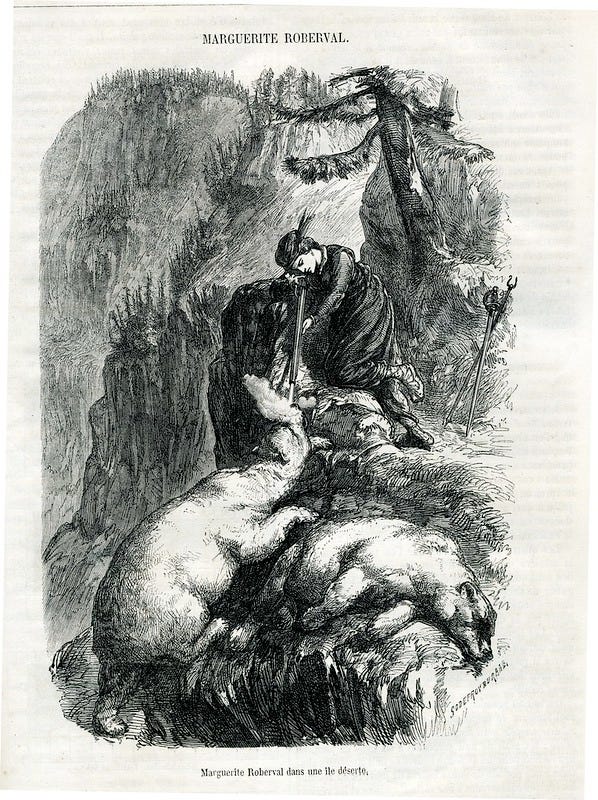 (image via Flickr)
This is what we know: French noblewoman Marguerite de la Rocque de Roberval and her wealthy relative Jean-Francois (some say he was her brother, others her uncle, others her cousin) were en route to Quebec in 1542. The King of France asked Jean-Francois to serve as Lieutenant General of "New France," so Jean-Francois set sail for Canada, convincing Marguerite to come along. When they got to the first hint of land — a treacherous spot known as "The Isle of Demons" — Jean-Francois abandoned Marguerite, marooning here in the New World.
This is what we're unsure about: some storytellers say Marguerite took up with a young lover while traveling to New France, and this disgusted her brother/uncle/cousin's religious sensibilities, leading to his betrayal. Other historians say Jean-Francois likely plotted the whole thing from the start so he could nab Marguerite's inheritance. Some say he left her with the young lover and a maid servant for company; others report she was entirely alone.
This is what we know, again: Marguerite survived. She had a gun, some knives and a Bible. She learned to defend herself against wild animals, even killing and skinning a bear. She gave birth on the island, alone, and her baby died soon after. In 1544, some fisherman found her and brought her back to civilization. Marguerite insisted upon returning to France immediately, where she told her story to the Queen, who then recorded it in her own writings and ordered an unruly mob to beat Jean-Francois to death. Marguerite herself retired to the countryside, where she founded a private school for girls.

Add to your library list: 
Read more:
Hear more:
Send your own recommendations for women to know! Reply to this newsletter with your lady and she could be featured in an upcoming edition.