A Woman to Know: Margaret Brundage
People found out that the M. in the signature M. Brundage was for Margaret — a woman. It was unfathomable that a woman would paint such material. — J. David Spurlock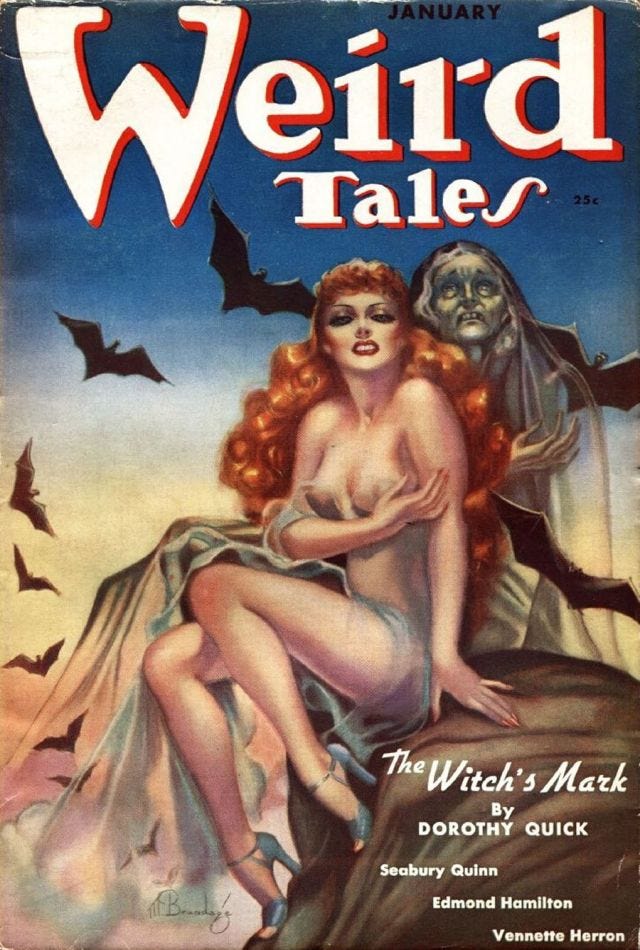 (image via Pulp Covers)

Naked swamp women crawling out of the ooze, lipsticked werewomen prowling castles, damsels chained to sarcophagi, ladies making "come hither" eyes while wearing all manner of masks (my favorite: a dead-eyed bat-head), literal vamps posing for their close-ups — these are only a handful of the creations Margaret Brundage brought to life. The pulp illustrator designed more than a hundred book covers throughout the 1930s and 40s, but she is most known for her erotic Weird Tales illustrations.

Margaret studied illustration alongside Walt Disney, but while he went into animation and traveled the world, she never left her beloved Chicago. She and her husband, "Slim" Brundage, joined the Dill Pickle Club, a bohemian group that met regularly in some of the city's seediest bars. As one of the first women to break into pulp novel illustration, she often sparked controversy with her bizarre yet risqué work.

But as her biographer J. David Spurlock puts it: "While seeming to fulfill the editor's request for titillation, she, in keeping with fine-art traditions, and her own politics, persevered to insert both her personality and her point of view into her sensuous women-in-peril pieces."

I'll leave you with this cover — perhaps one of her tamest, but to me, it says so much about Margaret's work. Beautiful, yes, but creepy. In a good way.

Add to your library list:
​​Read more:
Hear more:
** Send your own recommendations for women to know! Reply to this newsletter with your lady and she could be featured in an upcoming edition. You can browse the archive here. **