A Woman to Know: Mabel Ping-Hua Lee
No nation can ever make real and lasting progress unless its women are following close to its men if not actually abreast with them. — Mabel Ping Hua-Lee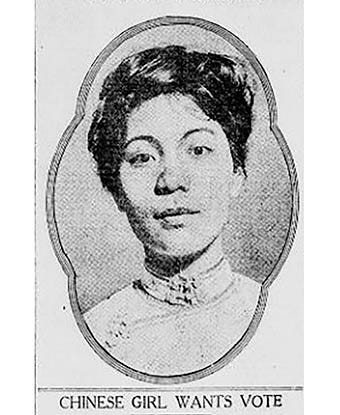 (image via The National Park Service)

In 1912, Mabel joined a parade of 10,000 New Yorkers, all advocating for women's suffrage. Mabel (only 16!) helped lead the march (on horseback!).

But five years later, when women in New York won the right to vote, Mabel couldn't join the celebration this time. Because she had immigrated from China, she wasn't eligible; federal laws still prevented Chinese-Americans from participating fully in American Society.

She would have to wait until 1943, when the Chinese Exclusion Act was finally repealed, before she could try again to cast her ballot.

But Mabel had other cause for celebration — in 1921, she became the first Asian-American woman to graduate from Columbia University, later publishing her thesis, "The Economic History of China," to great acclaim. She had talked of moving back to China to start an all-girls school there, but by the end of her life, she had never left the States. Instead, she took over her father's role at the First Chinese Baptist Church of New York City. When she died in 1966, Mabel had completely revamped the church's offerings, adding English classes, health assistance and even a kindergarten, all for the benefit of her Chinese community in New York City.

Add to your library list:
​​Read more:
See more:
** Send your own recommendations for women to know! Reply to this newsletter with your lady and she could be featured in an upcoming edition. You can browse the archive here. **