A Woman to Know: Lulu White
Women and music comprise two of the most compelling components in Storyville's history. — Eric Seiferth
Women and music comprise two of the most compelling components in Storyville's history. — Eric Seiferth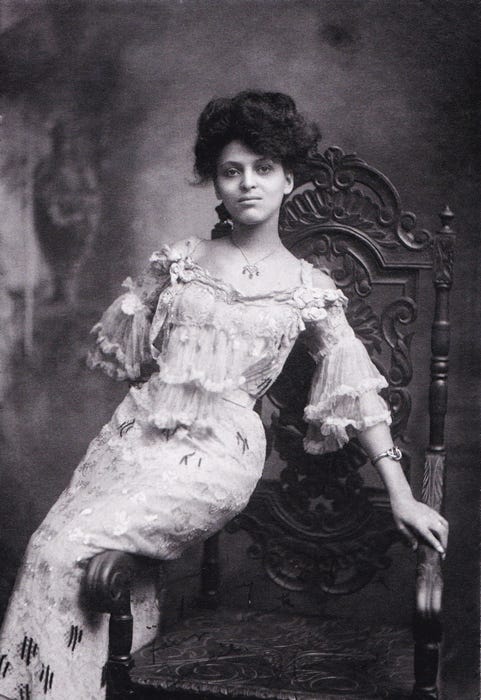 (image via Wikimedia Commons)
Visitors to Storyville, the infamous red light district in turn-of-the-century New Orleans, often consulted "Blue Books," the range of guides listing bordellos, their proprietors and the "stock" available for purchase. One Blue Book in 1900 described Lulu White accordingly:
Nowhere in this country will you find a more popular personage than Madame White, who is noted as being the handsomest octoroon in America. Her mansion possesses some of the most costly oil paintings in the Southern country. Her mirror parlor is also a dream. There's always something new at Lulu White's that will interest you. 'Good time' is her motto.
Lulu's early life is shrouded in mystery. She claimed at different times to have grown up in Alabama, Jamaica and Cuba, but by the time she set up shop in Storyville (likely some time in the 1890s) she'd already made a name for herself as a powerful New Orleans madam.
Her business, Mahogany Hall, welcomed some of the most influential men in the South. She called her brothel "The Octoroon Parlor" and prided herself on hiring women of color to entertain white patrons. She commissioned expensive works of art, including Tiffany stained-glass windows, and soon-to-be-famous jazz musicians performed in her parlors. Most notoriously, Lulu paneled the building's bedrooms in mirrors, where her 40 employees could dance in the nude for those who could pay the price.
Reviews at the time said the prices were exorbitant; but Lulu needed the money. She had to bribe authorities who wanted to segregate the prostitution business. She avoided legal ramifications for years, avoiding convictions on counts of liquor sales and "running a disorderly house" and even dodging allegations of attempted murder.
But in 1917, Lulu's luck ran out. The prostitution laws changed, and Mahogany Parlor shut down. People deserted Storyville, residents and customers alike. And Lulu White, at one point one of the most celebrated businesswomen in all of New Orleans, owed $150,000 in real estate investments gone bad —close to $3 million in today's dollars. Historians think she died some time in 1931, having sought refuge at the home of another penniless former madam.
Add to your reading list:
Read more:
Hear more:
See more:
Send your own recommendations for women to know! Reply to this newsletter with your lady and she could be featured in an upcoming edition.