A Woman To Know: Louise Elisabeth Vigée Le Brun
The passion for painting was innate in me. This passion has never diminished; indeed, I believe it has only increased with time. — Vigée Le Brun
("Self-Portrait in a Straw Hat," Vigée Le Brun, 1782, image via The National Gallery)
At age 15, Louise Elisabeth Vigeé Le Brun already had her own painting studio, her own portrait clients and her own commission fees -- but all of it was lining the pockets of her corrupt stepfather. She married to escape him, but as she traveled the Netherlands studying the Old Masters' light and oil technique, her new husband began using the same tricks to

But then, another (much more powerful) woman came to her rescue: Empress Marie-Antoinette. The teenage queen whisked the portraitess away to the countryside kingdom of Versailles, where she painted at leisure and documented Marie-Antoinette in her self-created paradise. The same misogyny and sexism that plagued her earlier career continued to tarnish her reputation; gossipmongers in small-town Versailles spread rumors that Vigeé Le Brun hired men to complete her sketches as she rendezvoused with palace courtesans.

("Marie Antoinette with a Rose," 1783, image via The Google Cultural Institute)

Ultimately, however, Marie Antoinette's patronage couldn't protect Vigeé Le Brun forever: as France spiraled into Revolution and "The Terror" made targets of all Versailles regulars, Vigeé Le Brun and her 9-year-old daughter fled the country. The new regime exiled her permanently from France, and her husband was forced to disown her and her daughter for fear of political danger. For the remainder of her life, mother and daughter traveled through Europe, living on painting fees and portrait commission. As explored in the Metropolitan Museum of Art's most recent exhibition, these wandering years became the period in which she deepened her craft: her later paintings, particularly those of mothers and daughters, prove her skill and talent, beyond the Versaille gossip clique and the other persistent rumors.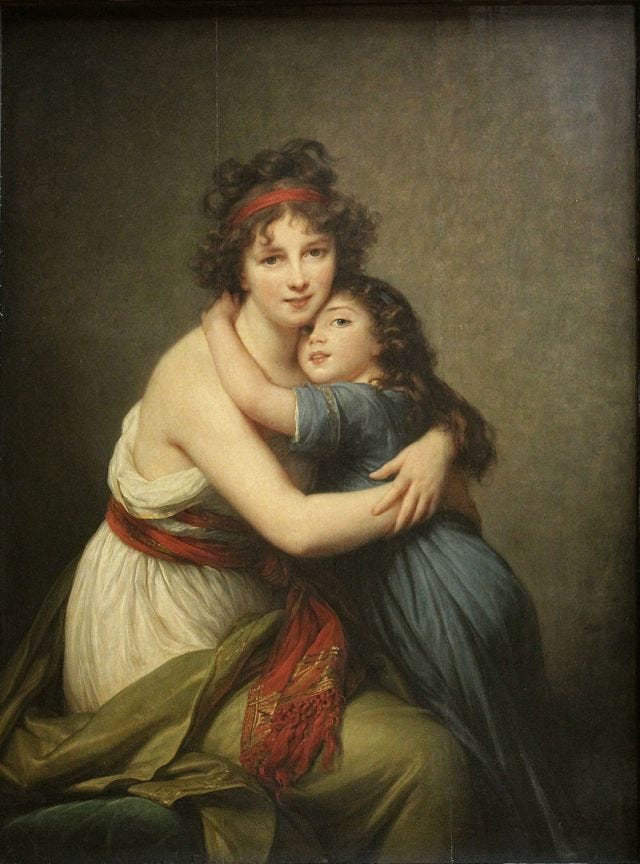 (Self-portrait with Daughter, 1789, image via Wikimedia Commons)

As she wrote in her memoirs years later, "Painting and living have always been one and the same thing for me."
Add to your reading list:
Read more:
See more:
*~Send your recommendations for women to know! Reply to this newsletter with your lady and she could be featured in an upcoming edition.~* You can browse the archive here.