A Woman to Know: Lois Mailou Jones
Mine is a quiet exploration — a quest for new meanings in color. — Lois

(image via Wikimedia Commons)
Lois began her painting career as a fabric designer in the 1920s and ended it as a renowned art teacher of the 1990s, beloved by four decades of Howard University students and admired by an entire new cohort of black artists. Her work cuts a wide swath of styles and subjects — portraits in New York and landscapes in Europe and abstract experiments without place — all united by her exploration of color, both on the palette and in society.

In her artistic heyday of the 1940s and 1950s, Lois struggled for gallery recognition. She ended up selling many of her New York works herself, without a dealer to guide her. And while many of her later works now anchor museums and prominent collections, these other pieces are lost to time, maybe hanging in someone's Harlem home, maybe sold for a fraction of their worth — or maybe soon to be rediscovered by a new generation of art students.

This is my favorite of her paintings: "Jenny," 1943, a portrait of one of her Howard art students, making dinner.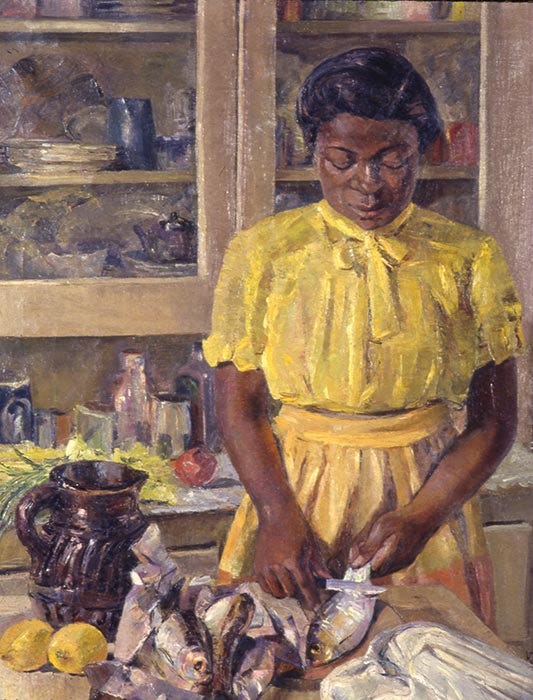 (image via Lois Mailou Jones Collection)
Add to your reading list:
Read more:
See more:
*~Send your recommendations for women to know! Reply to this newsletter with your lady and she could be featured in an upcoming edition.~* You can browse the archive here.