A Woman to Know: Julia Morgan
My buildings will be my legacy. They will speak for me long after I'm gone. — Julia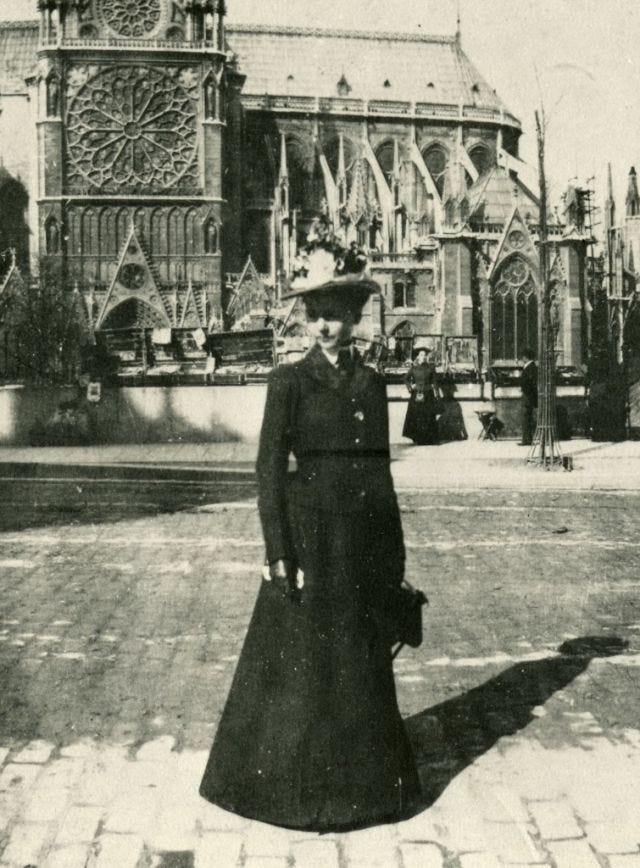 (image via Cal Poly)

Julia Morgan was a lot of firsts. The first woman to be admitted to the architecture program at the National School of Fine Arts in Paris (that's her photographed in front of Notre Dame above). The first woman to be licensed to practice architecture in California (San Francisco, Berkeley and Oakland are dotted with her buildings). And even after her death, she was still racking up the firsts -- in 2013, the American Institute of Architects posthumously awarded her its Gold Medal, the highest honor in U.S. architecture.

But beyond all these firsts, Julia is most renowned for her work on publishing tycoon William Randolph Hearst's grand palace in San Simeon. The 100-plus-acre estate was initially designed as a "camping bungalow" -- by the time of its completion, the manor included 56 bedrooms, a separate compound of guest houses, a Roman temple, multiple swimming pools, a movie theater, hand-decorated tiles (which Morgan designed herself), a private power plant and the world's largest personal zoo.

The massive mansion, once planned as a modest home, became so legendary that it eventually inspired Orson Welles's set for Citizen Kane, and tourists still visit the grounds today.

"Never turn down a job because you think it's too small," Julia herself later advised female students at her architecture academy. "You never know where it may lead."

Add to your library list:
​​Read more:​
Listen more:​
** Send your own recommendations for women to know! Reply to this newsletter with your lady and she could be featured in an upcoming edition. You can browse the archive here. **