A Woman to Know: Harriette Wilson
I admire and look up to heroes, but indolent men make the best lovers. — Harriette Brown
I admire and look up to heroes, but indolent men make the best lovers. — Harriette Brown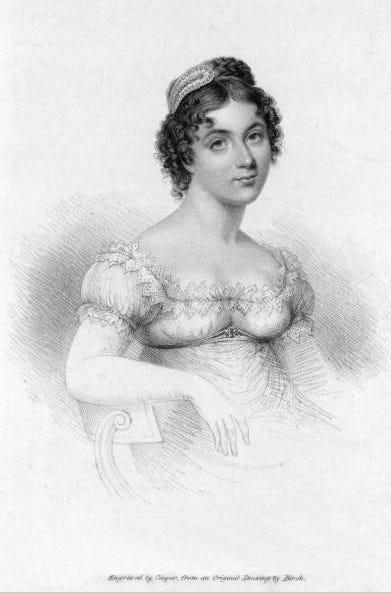 (image via Wikimedia)
Harriette knew the power of the written word. As a famous courtesan of Georgian England, her detailed diaries would ultimately prove her greatest weapon.
From the age of 15, Harriette carried on love affairs with the Duke of Wellington, the Earl of Craven, the Duke of Argyle and even, according to rumors she never substantiated, the Prince of Wales and his father, King George IV. The income from these extra-marital relationships kept her comfortable for years, until the men moved on to younger women. Then, Harriette realized, she needed another income to support herself, as well as her other courtesan friends who'd been abandoned by their former lovers.
When these prominent men reneged on their promises to support her into her old age (her 30s, because this was the world of 19th century courtesans), Harriette struck back, threatening to publish a tell-all memoir about the love affairs. Those who paid up were omitted from the final edition; those who didn't risked exposure. The Duke of Wellington dared her to try and besmirch his name: "Publish, and be damned."
But Harriette didn't back down. She found a publisher for the book, ripped the sauciest pages from her diary and went about making a name for herself. When the memoir hit shelves in 1825, bookshops had to queue lines outside their stores. From the very first line, readers were hooked: "I shall not say why and how I became, at the age of 15, the mistress of the Earl of Craven, whether it was love, or depravity … " Her book took high society by storm, regarded as required reading for the same circles who had once gossiped about her courtesan lifestyle.
Unfortunately, Harriette's plan didn't pay off in the long run. Her book entered twenty printings, and then thirty, but she died of alcoholism just 20 years after the first.
"I have one advantage over other bad females writers and prosing ladies, which is, that I do not think myself agreeable," she wrote just before her death. Her death certificate identified her as "a woman of independent means."

Add to your library list: 
Read more:
Hear more:
Send your own recommendations for women to know! Reply to this newsletter with your lady and she could be featured in an upcoming edition.