Please return in good condition to Gluck, no prefix, suffix or quotes. — Gluck wrote this on the back of each paintings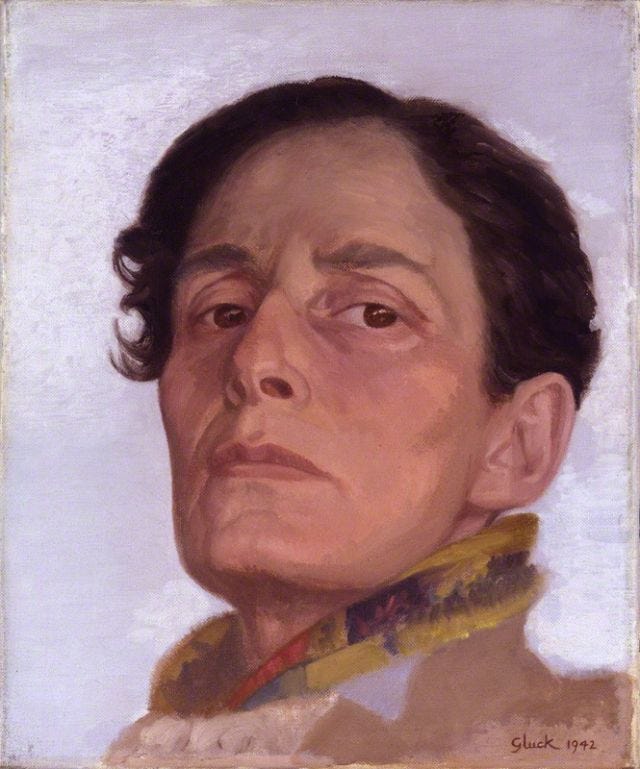 (image via National Portrait Gallery)

Jezebel has called Gluck "the Gertrude Stein of the oil paint world." Hannah Gluckstein was born in England in 1875, but once she cut off all her hair and began wearing men's clothes, she started signing her paintings only as "Gluck" — as she explained to friends, she wanted to be known for her work, not for her gender.

She opened her own studio in Cornwall, an impromptu arts salon for other Victorian lesbians, and there she entertained love affairs with Romaine Brooks, Constance Spry and Edith Shackelton Heald. She famously "stole away" an American businessman's wife, Nesta. The two were married in a very bohemian (but not legally binding) wedding ceremony. Despite the ensuing scandal, Gluck claimed her version of the marriage was the true marriage — and, despite the ensuing scandal and the businessman's protestations, no one really fought her conviction.

Gluck's paintings were wonderfully subversive and (surprisingly) quite popular: haunting landscapes, stern women in suits and even, most famously, a decaying fish head. She exhibited the rotting fish head in her final exhibit, "Rage, Rage Against the Dying of the Light," in 1973. People raved.

Add to your library list:
​​Read more:
​​See more:
** Send your own recommendations for women to know! Reply to this newsletter with your lady and she could be featured in an upcoming edition. You can browse the archive here. **