A Woman to Know: Fanny Bullock Workman
It should be known to them and stated in print that a woman was the initiator and special leader of this expedition. — Fanny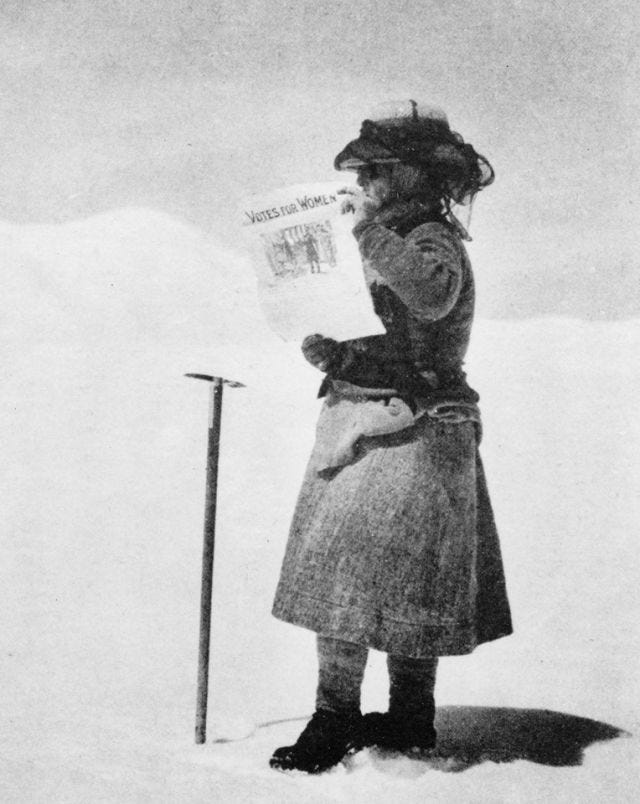 (image by William Hunter Workman)
That's Fanny Bullock Workman, on top of the Kaberi Glacier (elevation: 20,000+ feet), holding a newspaper headlined "Votes for Women." She organized the glacier expedition herself, accompanied by her husband on one of their many adventures. As she wrote later:
It should be known to them and stated in print that a woman was the initiator and special leader of this expedition. When later, woman occupies her acknowledged position as an individual worker in all fields, as well as those of exploration, no such emphasis of her work will be needed; but that day has not fully arrived, and at present it behooves women, for the benefit of their sex, to put what they do, at least, on record.
Badass, definition of.
Add to your reading list:
Read more:
*~Send your recommendations for women to know! Reply to this newsletter with your lady and she could be featured in an upcoming edition.~*

You might also like: The Ladycast, a podcast interviewing cool women about their passions, projects and, well, coolness.