A Woman to Know: Eve Adams
Men are admitted but not welcome. — sign outside Eve's Hangout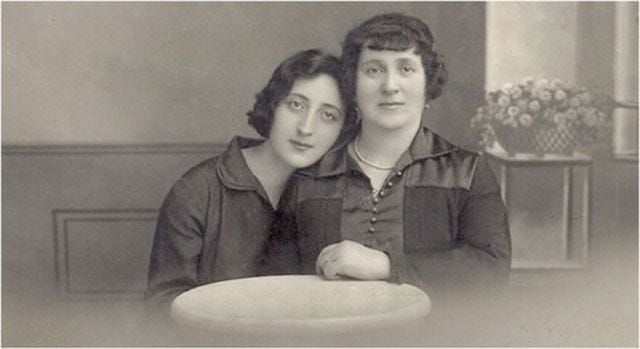 (image via Wikimedia Commons — Eve on the right)

Eve named her legendary bar after herself: Eve's Hangout.

The name had special meaning to her already. When she immigrated to New York from Poland, Chawe Zocslewer changed her name: from Chawe to Eve, sometimes "Eve Kotchever" and other times "Eve Adams."

In 1925, she opened her lesbian-friendly "tearoom" in Greenwich Village, then a major hub of bohemian New York life.

Eve's Hangout occupied the lower floor of a small townhouse on Macdougal Street, where Eve held poetry readings and discussion groups. But, of course, this was the 1920s — gay people congregating together (let alone drinking alcohol) could mean serious trouble for even the quietest of "hangouts."

Eve managed to stay under the radar for a single year. In 1926, an undercover police woman entered the bar, perused its bookshelves and caught sight of Lesbian Love — the short story collection Eve herself had published. That same year, Eve was convicted of obscenity and disorderly conduct, then swiftly deported.

In Paris, she opened another bar, this one also doubling as a bookstore where she actually could sell her work. But in the 1930s, she left Paris to fight against Franco's forces in the Spanish Civil War.

In 1943, she finally returned to Paris, where the Nazis had closed her bookstore-bar. That same year, she died in Auschwitz.

Add to your library list:
​​Read more:
See more:
** Send your own recommendations for women to know! Reply to this newsletter with your lady and she could be featured in an upcoming edition. You can browse the archive here. **