A Woman to Know: Elizabeth Peratrovich
I would not have expected that I, who am 'barely out of savagery,' would have to remind gentlemen with five thousand years of recorded civilization behind them, of our Bill of Rights. — Elizabeth Peratrovich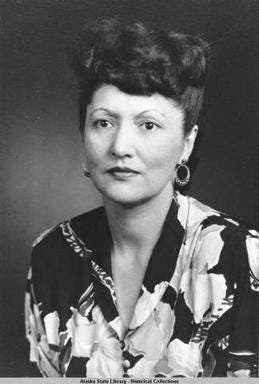 (image via Wikimedia)

Elizabeth grew up in activism. Her Tlingit Alaskan family belonged to anti-racist organizations and fought for the integration of schools. When Elizabeth later became grand president of the Alaska Native Sisterhood, her husband was running to be president of its companion organization, the Alaska Native Brotherhood.

In 1941, Elizabeth and her husband saw a "No Natives Allowed" sign posted at a hotel in Juneau. They wrote to the Alaska territory governor, asking him to right the wrong, and he became their ally in ushuring a landmark anti-discrimination bill through the state legislature. On the day it passed, Elizabeth stood on the Senate floor, bringing her knitting needles to keep her hands busy. She debated legislators who were against the measure, and bystanders applauded her remarks, leading to the passage of the Anti-Discrimination Act.

Elizabeth celebrated that political victory in 1945, a full 14 years before Alaska would even become a state — and 19 years before the federal Civil Rights Act.

Add to your library list:
​​Read more:
** Send your own recommendations for women to know! Reply to this newsletter with your lady and she could be featured in an upcoming edition. You can browse the archive here. **