A Woman to Know: Elizabeth Blair Lee
We had many superstitious prejudices to live down, besides the suggested slur of uselessness. — Elizabeth Blair Lee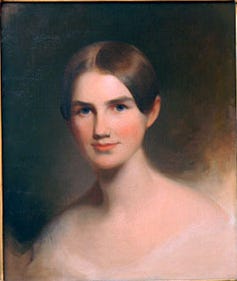 (image via Wikimedia Commons)

Elizabeth Blair Lee (of the DC-famous Blairs and notorious confidante to presidential advisers) viewed the Civil War from the steps of her clubhouse in Washington, DC — and thanks to her habit of writing letters back and forth with her husband, we can now track all of her wartime thoughts, observations and more through their copious correspondence.

Elizabeth's family hobnobbed with multiple presidential administrations. Their house (across the square from the White House) became a huge gathering spot for the Vice President, Cabinet members and other faces of the Washington elite. Today, Blair House is the formal guest house for White House visitors.

But after the War, Elizabeth wanted to create a gathering space of her own — at Patterson Mansion, several blocks away from her family's house near the White House. When Lee first officially opened her women's club after the War, society didn't think it "proper" for ladies to congregate.

Now, of course, America is flush with women's clubs and societies: from older places like Junior League to trendy millennial-pink spots like The Wing. But when Blair started her group, she fought "superstitious prejudices" from men and husbands. As Roxanne Roberts wrote in The Washington Post:
In an era when women were overshadowed by their husbands, Elizabeth Blair Lee — daughter and sister to presidential advisers — wanted a place to nurture social, intellectural and civic engagement of women. Such an organization was unheard of in the nation's capital in 1891, when the club was launched. It was almost radical.
Add to your library list:
​​Read more:
** Send your own recommendations for women to know! Reply to this newsletter with your lady and she could be featured in an upcoming edition. You can browse the archive here. **