A Woman to Know: Edmonia Lewis
Tis fitting that a daughter of the race / whose chains are breaking should receive a gift / as rare as genius. — Anna Waterson, in her poem "Edmonia Lewis"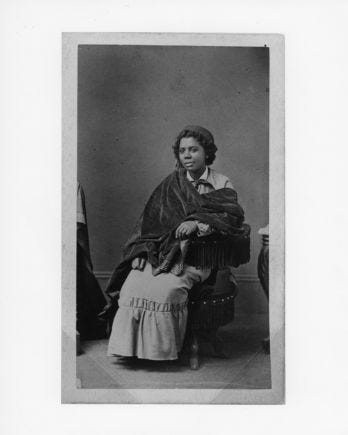 (image via Smithsonian)

At age 18, Edmonia Lewis left her studies at Oberlin College, which she attended as one of the only black students. And she didn't leave because she failed her classes or because she dropped out -- she left because two white classmates accused her of attempting to poison them. This wasn't the first racially-charged incident to mar Edmonia's time at college. She'd previously been accused of stealing art supplies. With this final incident in 1862 ruining her reputation on campus, Edmonia moved to Boston, where she began sculpting full-time.

On the East Coast, Edmonia's work drew an audience. She created busts of famed abolitionists like John Brown and William Lloyd Garrison. Her Chippewa Indian heritage inspired works based on Native American life, most famously "The Old Arrow Maker" and a trio of sculptures based on Hiawatha poetry.

In 1865, at the end of the Civil War, Edmonia moved to Rome, where she joined a thriving artist community of women ex-pats and creatives. But she couldn't escape her American roots; many of her most lauded pieces from this time are still inspired by Civil War events, including "Forever Free," a sculpture of two former slaves celebrating the Emancipation Proclamation.

But despite turns at the World's Fair and international exhibitions of her work, Edmonia shunned the spotlight. In the 1880s, she disappeared from public view entirely. For decades, even her most ardent admirers weren't sure where she was living, or if. Historian Marilyn Richardson made it her mission to track Edmonia's steps. In the early 2000s, she discovered a paper trail that led her to Edmonia's grave in London, and to her last will and testament, dated 1907, in which Edmonia described herself as "Spinster and Sculptor."

Add to your library list:
​​Read more:
See more:
** Send your own recommendations for women to know! Reply to this newsletter with your lady and she could be featured in an upcoming edition. You can browse the archive here. **