A Woman to Know: Clara Rockmore
Think of your fingers as delicate butterfly wings. — Clara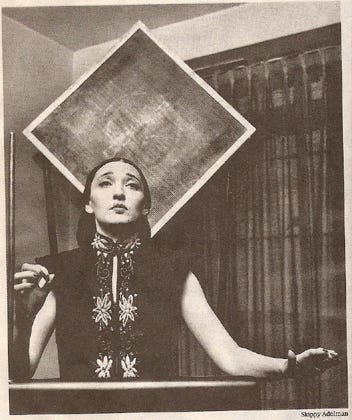 (image via Theremin World)
Before synthesizers created an entirely new genre of music, the theremin was revolutionizing classical music of the 1920s. Leading that revolution: Clara Rockmore, theremin goddess. As a one-time girlfriend of Mr. Theremin himself, Clara turned her violin skills into theremin magic — and she sold out concerts around the country as a self-billed "virtuosa."

A theremin performance is an odd thing to observe: the artist doesn't touch the instrument at all but instead hovers his or her hand closer to it to adjust the sound, as if by sorcery. And moving any other portion of the upper body disrupts control of the music — which means performers stand frozen, with an eerie focus in their eyes. Clara's fans became obsessed with her theremin aesthetic: long priestess gowns, heavy eyelids, slicked-back hair and perfect stillness.

"I was fascinated by the aesthetic part of it," Clara said. "The visual beauty, the idea of playing in the air."

Add to your library list:
​Read more:
Listen more:
*~Send me your recommendations — reply to this newsletter with your woman to know and she could be featured in an upcoming edition. You can browse the archive here.~*