A Woman to Know: Cathay Williams
I wanted to make my own living and not be dependent on relations or friends. — Cathay Williams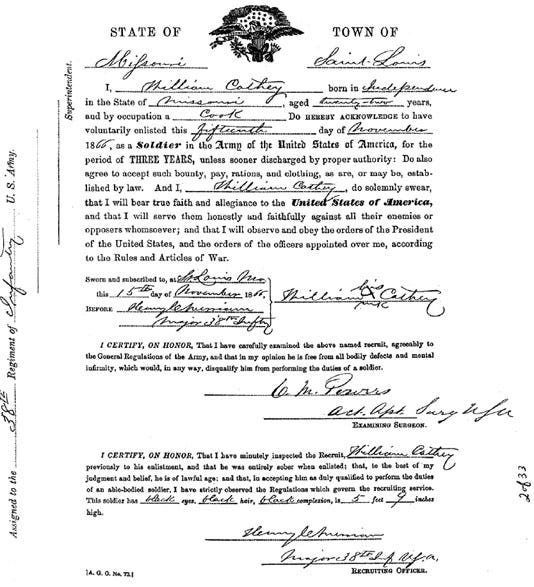 (Cathay's enlistment as "William Cathay," image via National Archives)

In 1850, Cathay was born a slave in Missouri. In 1861, the Union army conscripted her as a cook and washerwoman on the front lines of the Civil War in Arkansas, Louisiana, Georgia and Virginia. In 1866, dressed in men's clothes and using a man's name, Cathay enlisted in the U.S. Army's buffalo soldier ranks.

She called herself "William Cathay," a flip on her actual name, and for two years in the New Mexico territory she hid her true gender from her fellow soldiers. Cathay later said she joined the army and hid her identity because it was the only way she could think to support herself without relying on charity or revisiting her former life as a slave.

In 1868, however, at age 18, a military surgeon discovered her secret during a medical procedure. He discharged her on disability, and until she died, Cathay continued to ask the military to pay her pension, as due a soldier who served in two conflicts.

Add to your library list:
​​Read more:
Watch more:
** Send your own recommendations for women to know! Reply to this newsletter with your lady and she could be featured in an upcoming edition. You can browse the archive here. **