A Woman to Know: Catalina de Erauso
The fact that Erauso was able to live a transgressive life and still be accepted by the church and crown is quite inconceivable. — Sonia Pérez-Villanueva
The fact that Erauso was able to live a transgressive life and still be accepted by the church and crown is quite inconceivable. — Sonia Pérez-Villanueva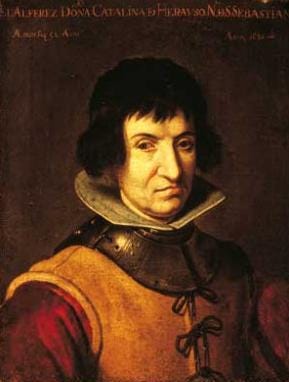 (image via Wikimedia Commons)
Catalina grew up in a 16th century Spanish convent. So at age 15, when she finally escaped, she rebelled to the full extent of her ability. She didn't just run out of the place and scream; she ran out dressed in men's clothes, starting bar fights left and right. She eventually joined the army (and then deserted) (and then joined again) so she could travel all over Europe.
On her travels, she started going by the name "Francisco Loyola." Some historians have speculated Catalina may have identified as a trans man in today's world, but in her memoirs, Catalina used female pronouns and declared her male disguise was but a ruse to avoid the law.
Catalina jumped into bar fights and even killed a few men in the process. She fought many duels over the wives and mistresses she seduced, card games she lost (or won by cheating) and gambling debts she owed. On the run for murder, she'd go back to her convent roots and claim sanctuary in different churches. She'd hide out there until things blew over, then run out again and resume her debauchery.
Eventually, though, the church betrayed her deepest secret. After stabbing a sheriff's servant in broad daylight and then killing several soldiers who tried to stop her, Catalina ran to the local bishop and confessed she was actually a woman in disguise. The bishop asked several nuns to confirm this and they reported back — gasp! — that Catalina was, in fact, a woman and also — very important for the church — a virgin at that.
The revelation of Catalina's intact virginity made her — oddly enough — a religious hero. The bishop forgave her previous crimes (even the many murders!) and even arranged for her to meet the Pope. The Pope himself was so charmed by Catalina that he gave her special permission to dress in men's clothing (normally considered a 15th century crime).
In 1626, Catalina wrote her memoirs, an instant smash hit. She lived out the rest of her life as a Church-sanctioned celebrity.

Add to your library list:
Read more:
Hear more:
Send your own recommendations for women to know! Reply to this newsletter with your lady and she could be featured in an upcoming edition.