A Woman to Know: Bonnie Parker
Some day they'll go down together / and they'll bury them side by side / To few it'll be grief, to the law a relief / But it's death for Bonnie and Clyde.— Bonnie Parker
They don't think they're too smart or desperate / They know the law always wins. / They've been shot at before / But they do not ignore / That death is the wages of sin.— Bonnie Parker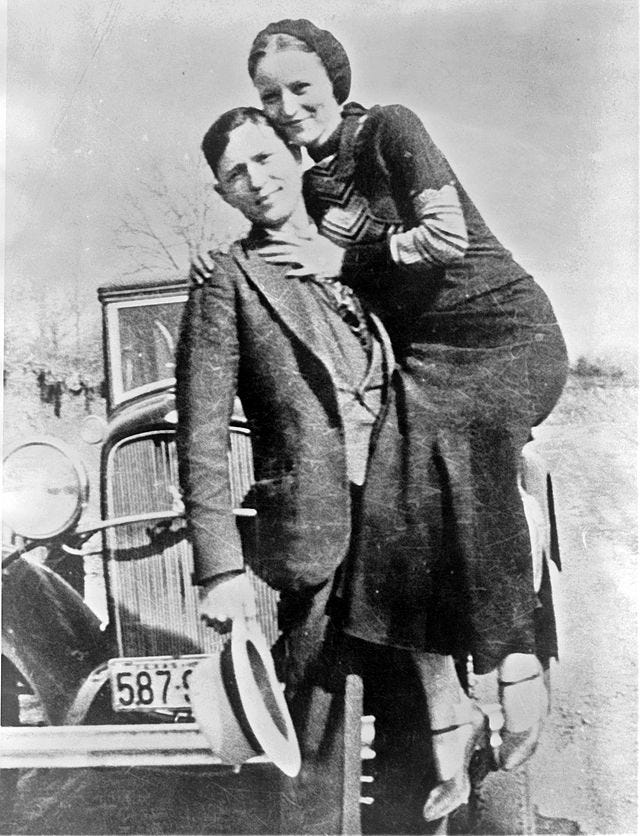 (image via Library of Congress)
Bonnie Parker grew up in rural Texas, the middle child in a turbulent household. After her father abandoned the family when Bonnie was just four years old, her mother dropped the kids off to live with their grandparents in Cement City, just outside of Dallas. There, Bonnie married her first husband when she was 15, and she fell hard. She and even tattooed their two names on the top of her thigh. But her new husband beat her and eventually got arrested for robbery. Bonnie moved back in with her grandmother in 1929 — just one year before she'd meet Clyde Barrow.
In 1930, Bonnie met the already-notorious outlaw when she was just 19 years old. Just four years later, they'd die in an ambush following a notorious killing-and-robbing spree across four states. The rest if history — the bank-robbing duo became folk heroes, celebrated for their ability to elude authorities. For those four years, the "Barrow Gang" traveled through New Mexico, Oklahoma, Texas and Louisiana, with Bonnie and Clyde awaiting trial, escaping prison and posing for well-publicized images all the while.
They never got married — Bonnie was still legally wed to that first husband from the tattoo — but Bonnie wrote of their romance in her many poems, including the most famous (and eerily prescient) work, "End of the Line":
Some day they'll go down together

and they'll bury them side by side.

To few it'll be grief, to the law a relief

But it's death for Bonnie and Clyde.
After their violent deaths, fans overran the funeral homes and demanded souvenirs from the bodies, like locks of hair or pictures with the gang's bullet-riddled getaway car. But unlike Bonnie had written, the two were never buried side by side. They remain separated even in death, with Bonnie's grave in Texas and Clyde's in Missouri.
Add to your library list:
Read more:
Hear more:
Watch more:
Send your own recommendations for women to know! Reply to this newsletter with your lady and she could be featured in an upcoming edition.