A Woman to Know: Bessie Smith
It's a long old road, but I know I'm going to find the end.— Bessie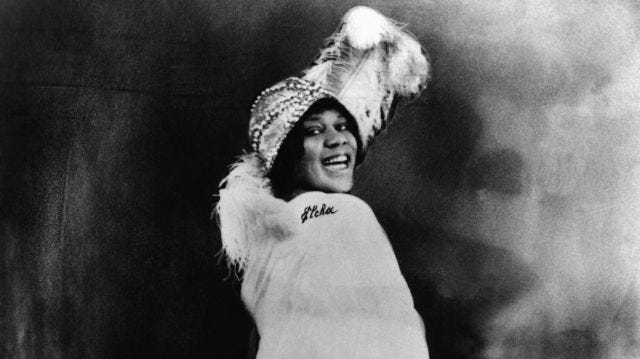 They called her The Empress of the Blues. She recorded with Louis Armstrong and Fletcher Henderson, appeared on Broadway and headlined vaudeville acts across the country.

But when Bessie Smith died in 1937, her legacy was underappreciated — she was buried in an unmarked grave and her recordings were lost to history. Decades later, the blues and jazz aficionados of the 1970s rock class rediscovered her music. As Janis Joplin said, "[Bessie] showed me the air and taught me how to fill it. She taught me how to sing, really."

Joplin bought Bessie a proper tombstones in 1970. She engraved a simple message on the headstone: "The greatest blues singer in the world will never stop singing."
Add to your reading list:
Listen more:
Read more:
Thank you to Becca Zavorski for recommending today's woman to know! And for always supporting this newsletter. <3

*~Send your recommendations for women to know! Reply to this newsletter with your lady and she could be featured in an upcoming edition.~* You can browse the archive on Tumblr.