A Woman to Know: Audrey Munson
Long after she and everyone else of her generation will become dust, Audrey Munson will live in the bronzes and art canvases of the art centers of the world. — New Oxford Item, 1915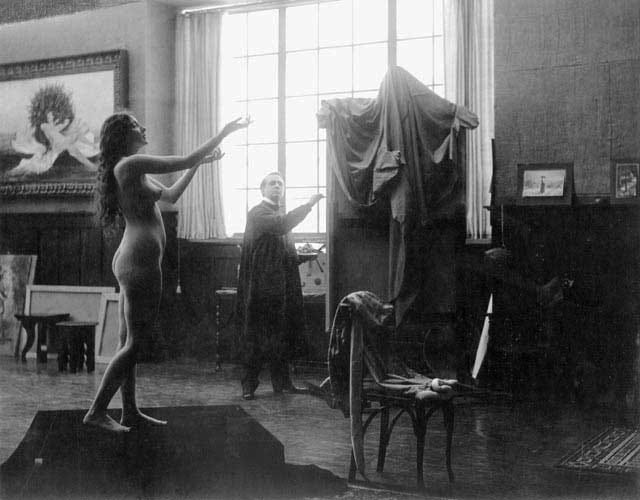 (image via Wikimedia)

High above the Hotel Astor Ballroom, three gilded Graces observe dancers below. Each Grace, adorned in stone laurels and draped in gold flake robes, is styled in the shape of Audrey Munson, an artist's model of the early 20th century. She posed for more than 21 statues scattered across New York City. And as "America's First Supermodel," she became the first U.S. actress to appear nude on film, in several scandalous pictures of the silent era. During the 1915 world's fair in San Francisco, her body was memorialized in the event's major sculptures and statues — reporters called her "The Panama-Pacific Girl" for her prominent placement in the Panama-Pacific Exposition art exhibition.

But Audrey's career was short-lived — after a decade of high-profile artists' sittings and film appearances, she and her mother scrambled for money, holing up in a boarding house where they were harassed by the landlord (he'd later murder his wife out of obsession for Audrey). The Munsons moved and resettled and moved and resettled, but Audrey couldn't find peace. After a suicide attempt in 1922, her mother committed Audrey to an insane asylum in upstate New York.

She remained there until her death in 1996, far from the bronzed versions of herself which still decorate New York City. As German artist Andrea Geyer mused in 1921:
I am wondering if many of my readers have not stood before a masterpiece of lovely sculpture or a remarkable painting of a young girl ... and asked themselves the question, "What becomes of the artists' models? Where is she now, this model who was so beautiful?"

Add to your library list:
​​Read more:
Listen more:
** Thank you to Masuma Ahuja for recommending Audrey as a woman to know! And also for the inspiration, all of it. <3 **

Send your own recommendations for women to know! Reply to this newsletter with your lady and she could be featured in an upcoming edition. You can browse the archive here.