A Woman to Know: Artemisia Gentileschi
She suffered a scholarly neglect that is unthinkable for an artist of her caliber. — art historian Mary Garrard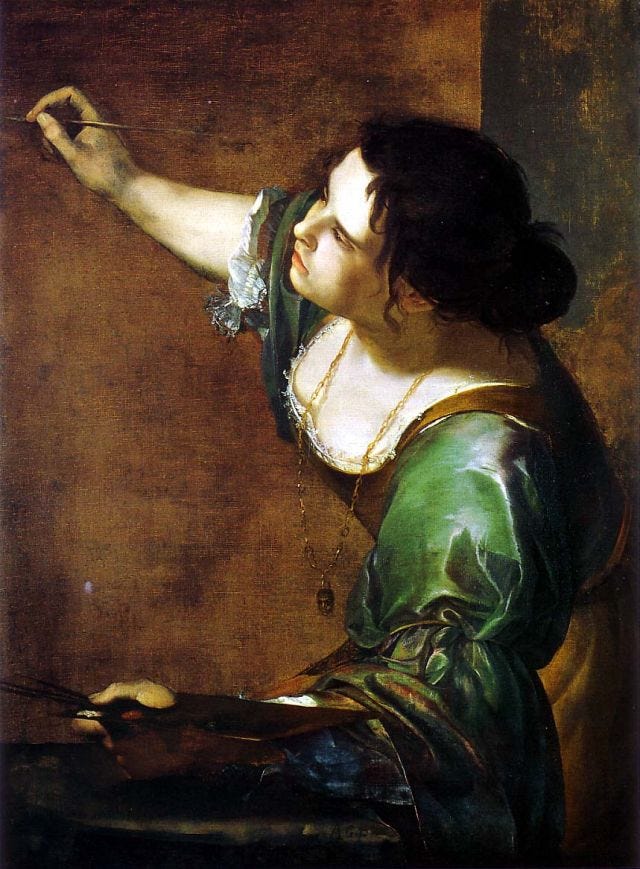 (Self-Portrait as the Allegory of a Painting (1638), by Artemisia Gentileschi) Note: Many of you recommended Artemisia as a woman to know after yesterday's wildly popular feature on Judith. Read more about Judith and Artemisia's depiction of her here (and more below!).
Artemisia has been called one of the greatest female painters of the Baroque era— but she was the first (and only) woman admitted to the Florentine Academy of Arts in 1616. Her path to recognition wasn't easy — she was raped by one of her painting tutors and, after a disastrous trial against him, endured ridicule throughout Italy for her supposed "promiscuity." But support from two famed patrons — King Charles I of England and the powerful Medici Family — established Artemisia as one of the premiere portrait artists of the time. Her depictions of Judith, Susannah and other Biblical heroines solidified her place in the contemporary art scene.

A lot of scholars have compared Artemisia's work to that of the legendary Caravaggio, one of her early instructors. But when feminist scholars rediscovered Artemisia's work in the 20th century, they praised her paintings for their decidedly un-Caravaggio perspective — one that's uniquely Artemisia's. On Tumblr, rgfellows writes of a really interesting comparison between Caravaggio's depiction of Judith Decapitating Holofernes and Artemisia's own rendition (below).
[Judith] is putting her physical weight into this act. Her hands (much stronger looking than most depictions of women's hands in early artwork) are working hard. Her face, as well, is completely different. She doesn't look upset, necessarily, but more determined. It's also worth note that the handmaiden is now involved in the action. It's worth note because, during her rape trial, Artemisia stated that she had cried for help during the initial rape. Specifically she had called for Tassi's female tenant in the building, Tuzia. Tuzia not only ignored her cries for help, but she also denied the whole happening. Tuzia had been a friend of Artemisia's and in fact was one of her only female friends. Artemisia felt extremely betrayed, but rather than turning her against her own gender, this event instilled in her the deep importance of female relationships and solidarity among women.

So maybe a better thing to say about Artemisia that she's one of the greatest painters of the entire era. Period.

Add to your reading list:
Read more:
See more:
*~ Artemisia starred in a *very early* issue of this newsletter but, you know, she's been a super popular request and way more of you have subscribed since then so ¯\_(ツ)_/¯ ~*

*~Send your recommendations for women to know! Reply to this newsletter with your lady and she could be featured in an upcoming edition.~* You can browse the archive here.