A Woman to Know: Annie Easley
I'm out here to get the job done, and I knew I had the ability to do it, and that's where my focus was. — Annie Easley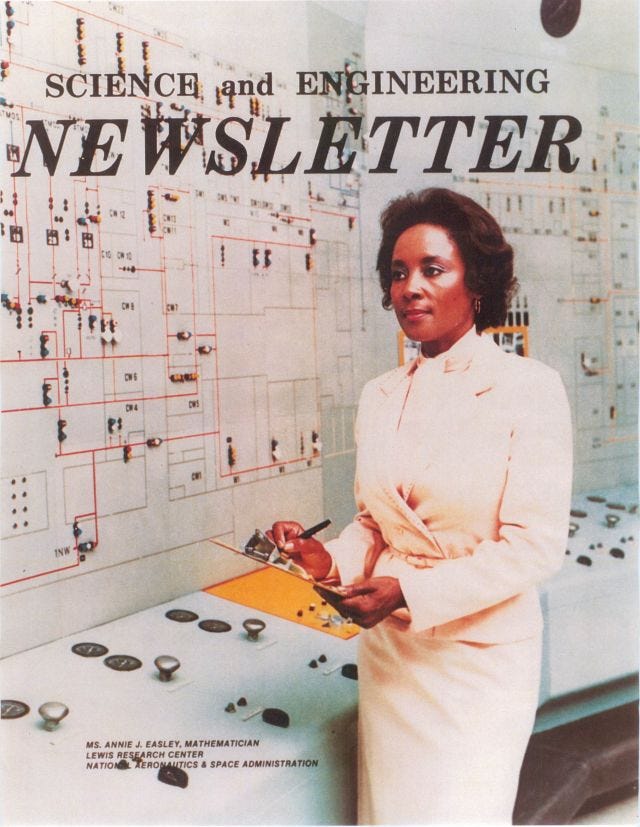 (image via The National Science Foundation)

In her 34 years at NASA, Annie Easley wore many hats. She started as a human computer in 1955, calculating problems for researchers. She then moved to a job in computer programming, working with the very machines that were then doing her old job. She researched rocket battery systems. She worked as an equal employment opportunity counselor. She brought more women and people of color to join NASA and spoke about her work with local schools and employment programs.

She and a colleague even led the workplace in breaking an important barrier — letting women wear pants to work.

"It did cause quite a stir," she said of the first day she wore a pantsuit. "But there was one woman who said, 'I was just waiting for the first one to wear pants.'"

Add to your library list:
​​Read more:
Hear more:
** Send your own recommendations for women to know! Reply to this newsletter with your lady and she could be featured in an upcoming edition. You can browse the archive here. **