A Woman to Know: Anna Mani
My being a woman has absolutely no bearing on what I want to do with my life. — Anna Mani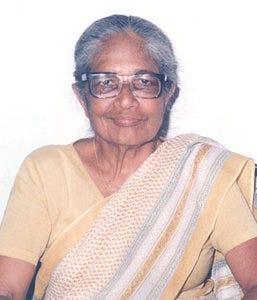 (image via Wikimedia Commons)

When Anna turned 8, her family gave her a very special present: an exquisite pair of diamond earrings. She begged her parents to return them — all she really wanted, she promised, was her own complete set of encyclopedias.

Growing up in India in the 1930s, Anna watched the legendary leader Gandhi with fascination. Inspired by his message, she decided as a child that she would rise to the highest levels in her chosen field, meteorology. She didn't want to do so for money or recognition — inspired by Gandhi's work, she wanted to do so to make her country a better, cleaner place.

Twenty years later, she graduated at the top of her class. Thirty years later, she started her job as India's first female chief of meteorology. Today, solar engineers study her books and use the tools she designed. Experts agree: her work forever changed the industry.

Add to your library list:
​​Read more:
** Send your own recommendations for women to know! Reply to this newsletter with your lady and she could be featured in an upcoming edition. You can browse the archive here. **